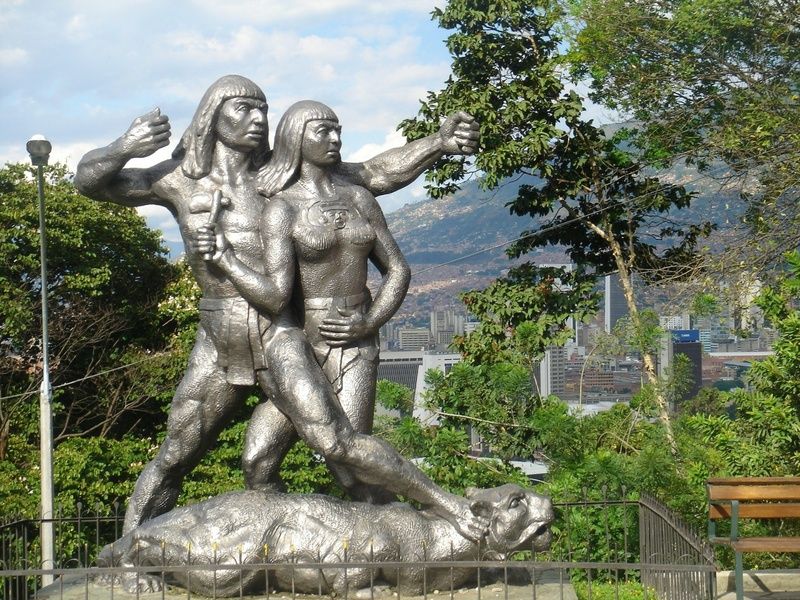 Is Medellin safe? Generally — yes! Medellin is a safe place for travelers (with a little know-how!).
Locals in Medellin helped us create this guide to safety in their hometown. It includes everything from the coronavirus to tips for solo travelers.
Looking for more insider info on safety in Colombia? Work with a local for on-the-ground access as you plan your trip. . 
"Linelly helped us beyond anything we could've planned ourselves. Everything she suggested for us was spot-on, and I feel we got the best experience by following a local's guidance."
—Kate, Recent Traveler
Table Of Contents
What to know about Colombia and the coronavirus
Crime rates in Medellin
What to know about petty theft
Vaccination info for Colombia
Drinking tap water in Medellin
Using public transit in Medellin
What solo travelers should know
Emergency numbers everyone should know
Medellin's crime rates are low
Yes, Medellin was once infamously dangerous — it was even once known as the most dangerous city in the world!
But the Medellin of today is completely different. In fact, Medellin's 82% decline in violent crime means that the city is now safer than New Orleans.
And like other major cities, locals say that violent crimes occur in neighborhoods far away from the center of the city — that is, far from where you'll find most Colombian points of interest.
What kind of traveler are you?
Let's face it. People want different things when they travel. Rather than spending hours sifting through blogs and top 10 lists written by people who may have totally different interests than you, why not start by sharing a little about what's important to you when exploring a new destination?
Enter your travel preferences below and we'll connect you with a like‑minded local in Colombia to help you plan your trip based on your specific interests.
Petty theft is your only real concern
Medellin is Colombia's second-largest city after Bogota, and, like its sister city, has high rates of petty theft.
To avoid petty theft and stay safe in Colombia, locals suggest taking a cue from the popular Colombian saying: "No dar papaya." Roughly translated, this means "don't put yourself in a position to be taken advantage of."
To that end, benefit from local advice when it comes to things like spotting and avoiding petty theft and other scams. Our locals advise to:
Avoid wearing anything that makes you stand out from the locals; flip-flops, fanny packs, shorts, and expensive jewelry are all signs of a novice traveler—which pickpockets use to their advantage.
Keep your belongings secured to your person at all times. In Medellin, thieves are known to ride motorcycles through traffic, snatching phones, jewelry, and bags from open car windows.
Local Tip:
Buying street food is a great way to experience Colombia like a local—just be sure to ask the price before ordering. Once the food is in your hands, vendors can (and occasionally do) charge exorbitant prices.
Work with a local to plan your trip.
See a side most people miss.
Medellin's tap water is safe to drink
Medellin is one of the many cities in Colombia with an excellent water purification system, so the city's tap water is absolutely safe to drink. That also means that fresh fruits, vegetables, and street food are safe to consume.
Medellin's public transit is safe and easy to use
There's no bad choice when it comes to Medellin public transport—whichever option you use for your travel itinerary, you'll get to where you need to go cheaply, safely, and easily. Medellin's most popular modes of public transportation are the metro, buses, and cable cars, with the majority of travelers using the metro.
Medellin's award-winning metro system is only $0.69 per ride with a Civica card, which works much like a standard metro card in U.S. cities. Civica cards can be used interchangeably between buses, metros, and cable cars.
Navigate with ease with a little local advice—when our locals design your trip, they can answer any questions you have about transportation.
Solo female travelers love Medellin
Good news, solo female travelers! Medellin is largely considered to be one of the safest places in Colombia for independent, solo travelers—especially if you keep to the city's well-populated areas. Real talk: harassment and cat-calling are an issue in Medellin (as in Colombia and Latin America as a whole); however, they're generally considered to be less severe in Medellin due to the city's massive student population.
With that in mind—and given Medellin's balmy average temperature of 72°—jeans are the go-to wear for most Colombian women if you feel like blending in. But don't let any haters dictate your wardrobe—many women feel safe wearing whatever they want while hiking around Medellin or partying away in the city's awesome nightlife.
For personalized recommendations on how to dress, how to stay safe, and what women should know in Medellin, work with one of our locals. 

Emergency numbers everyone should know
In the off chance that you run into any trouble while galavanting through Medellin, here are some numbers to call for assistance.
National Emergency Number: 123
Tourist Police: (1) 3374413
Information: 113
U.S. Embassy in Colombia: (+57) (1) 275-2000
(Visited 242 times, 1 visits today)